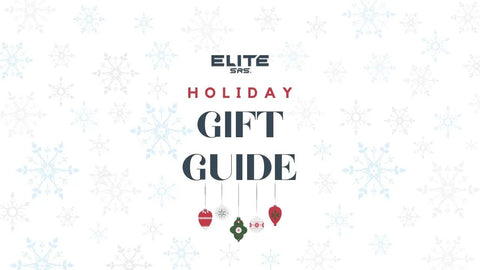 December is here; which means holiday shopping is in full swing. Finding the perfect gift for your friends, family and coworkers can be a daunting task. To help, we have come up with the ultimate gift guide for all of the jump rope fanatics and gym rats in your life. Whether they are new to the jump rope scene, a veteran of the sport, or spend their days hustling at the gym, these gifts will bring them joy this holiday season.


What's in the Guide?
Whether you're shopping for a jump rope or gear to go with it, we've identified some of our favorite essentials and accessories. But don't take our word for it. Check them out below.
Elite Jumps Top Sellers
Gift them all or just one. Our top performing jump ropes are perfect for beginners, the pros, and everyone in between. 
For the double under champs, speedsters, and crossfit ladies and gents in your life. Hundreds of color combinations to choose from, dual ball bearings for optimal speed, and lightweight handles for comfort (Not for beginners).
Retail Price: $59.99
Perfect for those who are getting comfortable with double unders, but still need a bit of "feedback" to be successful. Comes with lightweight handles, a 3.2mm cable and a joey bag for quick and easy storage.
Retail Price: $44.99
Do Hard Things™ Fit+ Beaded Rope
Perfect for freestyle jumpers. Let them unleash new tricks with the 8 inch handle, great for crosses and under the leg moves and 1 inch beads for flow and movement. 
Retail Price: $24.99
A versatile rope for beginners and advanced jumpers. Featuring 5 inch handles and 6mm PVC cord. This rope gives excellent feedback and extra weight and resistance for a more intense workout.
Retail Price: $15.99
Accessories
An athlete can never have too many accessories. For a little something extra in their stocking this year, think about these options. They're some of our favorite brands, too!
Stay hydrated and keep your water ice cold through your entire workout. With four different size options, a variety of colors and accessories, there's an option for everyone in your life.
Retail Price: $34.95
The days of counting your jumps are over. The Tally Jump is a sleek counter that you can tie right on to your shoe. Download the app, strap on the counter and start breaking Double Under records.
Retail Price: $97
Gym Bags
Jumpers and gym goers alike have a lot of "gear". This year, give them the gift of storage with a fanny pack or gym bag.
Perfect for an athlete on the go. Roomy zipper pocket storage with a slot for your I.D, chapstick, key, and even space for a protein bar to sate your post workout hunger. Made with 5 recycled plastic water bottles.
Retail Price: $90
Just the right size. Perfect for packing up all of your gym necessities. Bottom storage that separates stinky shoes from your freshly washed gym outfit, this one's a game changer.
Retail Price: $49.99
Shoes and Apparel
It's all about style and comfort. Having a good shoe and breathable clothing while jumping rope and working out is crucial to keeping your body healthy and happy. 
Sleek and lightweight style fit for a tough crossfit rotation, a double under session, or a casual freestyle flow. Available in men and women sizes.
Retail Price: $129.00
Bright colors and soft to the touch fabric. Perfect for all men and women wanting to move freely and feel comfortable through their entire workout.
Retail Price: Starting at $30
Recovery 
Give the gift of relaxation with at-home, post workout essentials that relieve muscles, increase blood flow, and promote healthy recovery.
A massage gun that won't break the bank. Comes with four different massage heads and a travel case. Relieves muscles after a tough day at the gym or a long training session learning a new jump rope routine. 
Retail Price: $99.00
An essential for any athlete. Helps with blood circulation and muscle tightness. Comes in a variety of sizes, colors, and patterns.
Retail Price: $34.99
The perfect blend of aminos which support muscle strength, prevents muscle loss, and helps with healing after a workout. Choose between two delicious flavors, lemon or fruit punch. 
Retail Price: $35.22 (save 5.6% with autoship)
Conclusion
We hope your wheels are spinning now and you know exactly what to get the fitness-enthusiast in your life! Remember, get your shopping done soon so your gifts are delivered before the Holiday and you don't miss out on special deals!