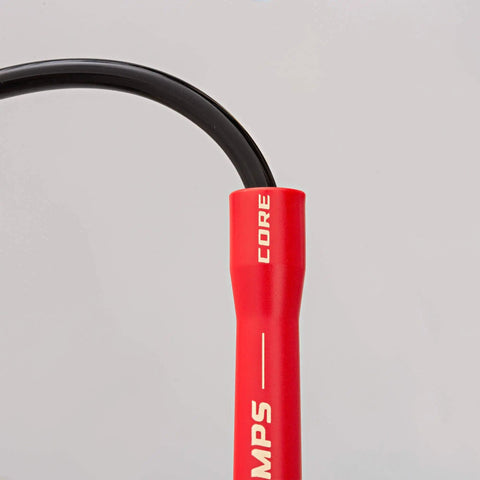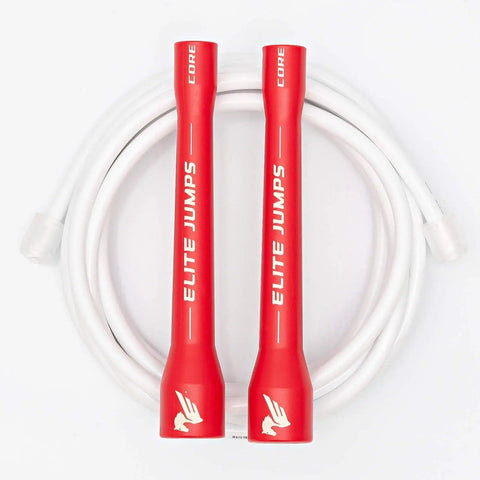 Core Jump Rope - 6mm PVC
"This is such a great quality product. I am a boxer and I've worked with many jump ropes but this one is just perfect. It's ...
Show More
Free USA shipping $50 and over.
Product Features

Our 6mm Core Rope is the perfect starter rope for anyone looking to upgrade on the jump rope they use at home or the gym. The thicker 6mm cord helps you establish a rhythm and is perfect of warming up before workouts or working into to interval or HIIT training.

Travel Ready: The 6mm rope is compact and convenient, making it a breeze to pack into your suitcase or carry-on for a fulfilling workout whether you're at a hotel or an AirBNB. 

Speed & Freestyle Movements: Though equipped with a thicker cord, the Core Rope is well balanced and can be used for simple freestyle movements like crosses and speed movements like double unders.

Quick Cardio Workout Companion: The 6mm cord is a thicker, more resistant option that guarantees quick cardio spikes, making for a robust workout that aids in effective weight loss and overall fitness enhancement.

Durable: Unbreakable plastic handles and a durable cord with an inner string core that prevents stretching and breaking, making it suitable for both indoor and outdoor use (even outdoors in the cold winter months).

1-Year Money-Back Guarantee: We stand confidently behind the quality of our products, offering you a one-year money-back guarantee with dedicated customer service from our USA-based team.

WHAT'S INCLUDED WITH PRODUCT

- Handles: unbreakable plastic polymer 5"" handle
- Cords: 6mm Stretch- and kink-resistant PVC cord for jump ropes. Comes at 10ft length. The inner string keeps the cord from stretching when jumping, helping with consistency. It also increases the durability of the cord, making it less likely to snap or break in cold weather.
- Elite Jumps Velvet Bag

Shipping & Returns

We ship same day on orders before 11am PST. Orders after 11am ship next day. Want to return your product? We'll refund the cost of the product within our 90 day return window.

1-Year Warranty

Our products are guaranteed with a 1-year money-back warranty. Within the 1 year warranty we will refund, repair and/or replace parts or products that are defective in materials or workmanship. We pay the shipping.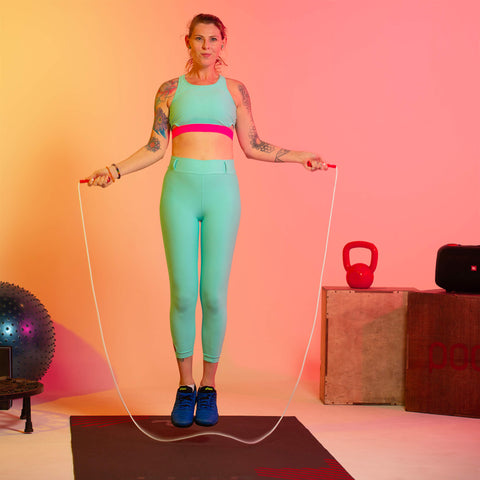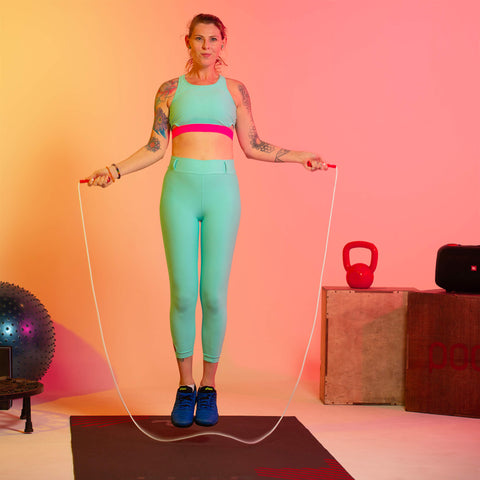 Step Up Your Fitness Game with the Core Rope!
Crafted for your ultimate workout experience, the Core Rope is the perfect upgrade for individuals dedicated to enhancing their fitness levels and mastering the art of jump roping.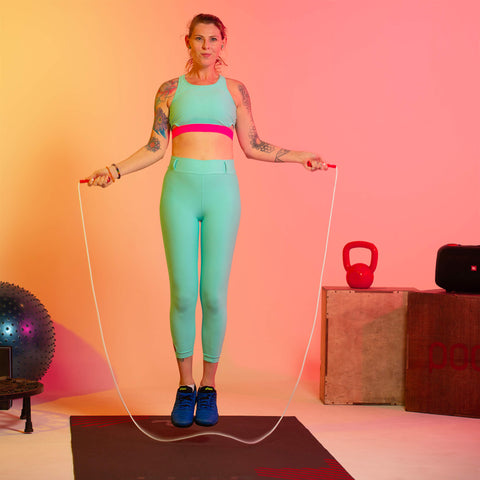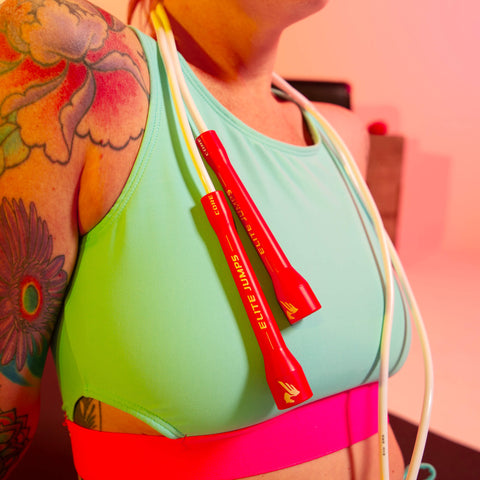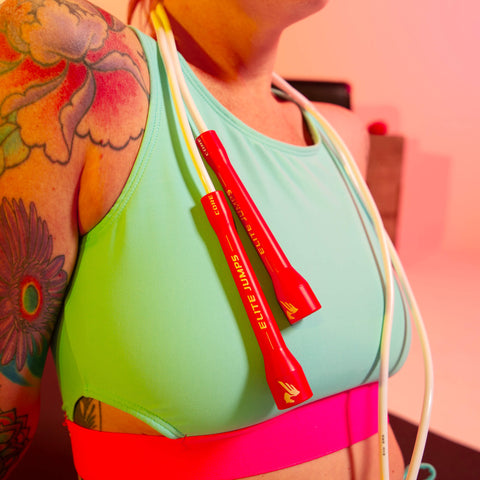 🎯 Designed for Fitness Enthusiasts of All Levels!
Whether you're starting your fitness journey or looking to intensify your workouts, the Core Rope is the perfect companion to help you achieve your fitness goals efficiently and effectively.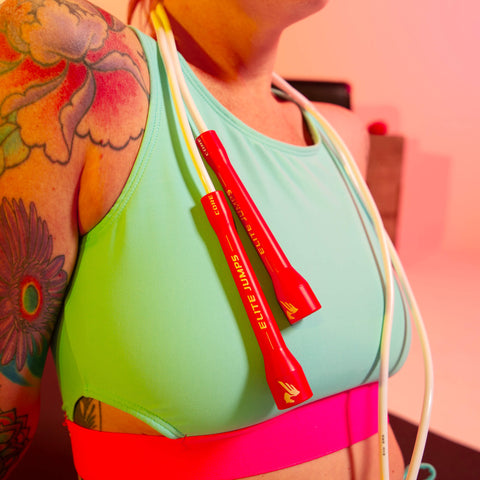 High-Quality Jump Rope
This is a high-quality PVC jump rope. At 6 mm it has some weight to it and is definitely a rope built more for cardio than for speed. Cardio is what I was looking for, though, so I am happy with the size. I'm 6'3" and the rope is plenty long enough for me. I haven't trimmed it to size yet, but I'll probably end up taking 8"-12" inches off. So, unless you're over 7 feet tall, this rope should be plenty long enough for you. I've only owned a few other jump ropes in my life. I'm an infrequent casual jumper looking to get into it more, but this is easily the best quality jump rope that I've owned and an easy recommendation.
NIGHT AND DAY compared to my old rope
I'm just a beginner but this rope is night and day compared to my old rope.
It's soft, pliable, isn't kinking, the core is reinforced with thread inside for extra safety, the handles feel incredibly high quality even though they are plastic, and as a proud American, I love the Made in USA embossing on the handles!
Jumping on it is amazing. It engages my arms more since it's on the thicker side (though, again, it is super soft and pliable). It also gives me a TON of feedback compared to my old rope, which is great for a beginner. It feels heavier, it makes an easier to follow whooshing sound flying through the air, the white version I have is easier to follow visually, and, most critically, it moves SLOWER due to how thick it is and not having ball bearings in the handles, which is a FEATURE, not a bug. I considered some of the ropes out there with bearings, but have learned those ropes are for TRICKS. Like double-unders. If you are just a BEGINNER, or if you just want to ENGAGE YOUR BODY, like for cardio, then this rope, with its extra thickness, heft, and feedback, is loads better.
It was also extremely easy to adjust without any tools. (Of course you would need some cutters if you want to cut it. But simply adjusting it can be done tool-free.) And it came in a nice pouch.
Does what is Needed
I have started my fitness journey and one of the exercises I loved growing up was jump roping. This is a durable rope for jumping
Best Jump Rope I Have Owned
I could tell whenever I opened this jump rope that it was going to be a good one! I ordered the white rope with red handles. This rope has got some weight to it. My toes have already found that out the hard way. Adjusting the length of this rope was easy and fast. The clear plastic crimp is actually a two piece device. Once you slide the outer piece off, the remaining porting of the crimp can be slid down the rope to your desired point, and simply pressed back together, locking the crimp into place at its new location. The remaining slack can be trimmed with scissors. I again like the weight of this jump rope. The handles feel comfortable in my hands while jumping rope. Once finished, it also came with a red bag to place the jump rope back inside. This has to be the best jump rope I personally have ever owned.
Legit Professional Jump Rope
This a a good quality jump rope. Great for working out and getting my sweat on. I like the fact that it's adjustable in length and that it's 6mm thick gives it a good body to swing in circles.