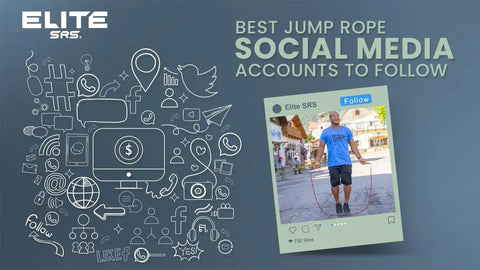 Author - Will Holmes, Owner of the Jump Rope Hub
One of the great things about the internet, and social media, is you can find content and content creators for just about any subject…including jumping rope.
Finding new jump rope workouts or learning new jump rope skills and tricks has never been easier! There are literally thousands of hours of jump rope content out there, just waiting to be consumed.
What's in this Article?
Regardless of the type of jump rope content you're interested in, there's an account or channel for you.
Given how many accounts are out there, we figured we'd compile a list of our 10 favorite jump rope social media accounts to help you find the perfect one! Everything from jump rope instruction and beginner tutorials, to jump rope fitness, you can find on one of the accounts below.
Each Account Is Unique
Figuring out which accounts to follow ultimately depends on what you're looking to accomplish.
For example, say you're looking to learn new tricks for your freestyle routine. You'd probably want to consider following a professional freestyle jumper, like Celina Furman.
Or, maybe you're looking for some new jump rope workouts to keep your training regimen fresh and interesting. For that, you might consider following Dan Witmer and Brandon Epstein (The Jump Rope Dudes).
Other accounts, like Tori Boggs', are worth checking out purely for their entertainment value. She's a world jump rope champion, the triple-under world record holder, and probably the first person we've ever seen jump a rope that's on fire (seriously, check her out). 
Our Top 10 Jump Rope Social Media Accounts
Tori Boggs's Instagram account is one of our favorite jump rope social media accounts. She's been jumping rope since the age of 5 and has since travelled to over 30 countries teaching and competing in jump rope. Her account focuses primarily on jump rope exhibition, showing off her incredible talent.
Dan Witmer and Brandon Epstein created the Jump Rope Dudes YouTube channel 6+ years ago. It's one of the most popular channels out there, with a subscriber base of more than 1 million. The channel focuses primarily on jump rope workouts and weight loss.
Celina Furman has one of our favorite Instagram jump rope accounts. She's a professional freestyle jumper and part of the Flight Crew Jump Rope team. Her account focuses mostly on freestyle jump rope and has some great tutorials for any jumper, regardless of their experience level.
Rush Athletics TV, a YouTube channel created by Rushie Shah, is a UK based channel with 100+ jump rope videos. The channel focuses primarily on jump rope instruction. Rushie helps his followers with everything from sizing their rope and learning the basics, to advanced tricks and techniques.
Sam Kwant's Instagram account is another great one to follow. Sam is a CrossFit athlete and competed in the CrossFit Games in 2016 and 2017. While his account isn't solely dedicated to jumping rope, he it's one of the best accounts for jump rope in CrossFit.
NEED AN INSTAGRAM POST
The McFit Method YouTube channel, created by Chris McCarthy, is a great channel to follow if you're looking for new jump rope workouts. The channel has over 200 videos, all of which focus on utilizing a jump rope, body weight exercises, and weights to get in shape.
Geraldo Alken's Instagram account is another great jump rope account to follow. Geraldo has only been creating content for a couple years, however he boasts 80k+ followers. His account is one of the best accounts for jump rope challenges.
Created by former jump rope world champions Nick Woodard and Kaylee Woodard, Learnin' The Ropes is another account definitely worth a follow. Their account, and program, was designed to teach the youth jump rope fundamentals. It's the best jump rope account for children.
Kyle Easter's YouTube channel is definitely worth checking out! With over 100 videos, his account focuses primarily on jump rope fitness for beginners. Tips for not tripping over your rope, mastering double unders, tricks for beginners, etc.
Ridge Robson, a 3-time jump rope world champion, displays freestyle jump rope skills for his 300k+ followers. This is another account to follow solely based on its entertainment value. He is definitely one of the best accounts to follow for jump rope exhibition.
Honorable Mentions
While the 10 accounts listed above are some of our favorites, there are so many others worth checking out. With all the great content being created, daily, we felt it was important to list some of those other accounts we actively follow.
Here are our Honorable Mentions:
Kathy, a mother of two, has lost over 100lbs jumping rope! She uses her platform on Instagram to inspire, motivate, and teach people how to jump rope. Her account has great instructional videos and jump rope challenges.
Jimmy Reynolds (@jimmysaysrelax)
Jimmy Reynolds, owner of Stay Gold Athletics, has an awesome jump rope account! His channel includes a solid combination of content, including jump rope fitness, tips and tricks, and jump rope dance.
Kaydee, one of our favorite up-and-comers, has only been jumping since the beginning of 2021. However, her account is not one to overlook. Her account gives an honest look at jump rope progression and includes some great jump rope tutorials.
Happy Fingers Jumps, based out of the Philippines, is another account worth checking out. They have some great jump rope tutorials for beginners.
Marco, a certified personal trainer and jump rope coach, creates some awesome jump rope content on Instagram. With a primary focus on health and fitness, his channel is great for anyone looking for bodyweight exercises and fitness jump rope tutorials.
Yana's Instagram account is one of the most entertaining jump rope accounts out there. She mostly creates jump rope dance videos and has a great sense of humor. Definitely a great account to follow!
Alysia is a fitness enthusiast with a passion for jumping rope. Her account has a bunch of great content, focused primarily on calisthenics and jump rope fitness.
Jenn is a competitive jump roper and jump rope coach. She has tons of experience in the space and uses her platform to teach various tricks and movements. Follow her for some of the best jump rope trick tutorials.
Claire, from Jump Rope Revival, has a unique jump rope account that combines both mind and body training, with jumping rope. Check her out for some great jump rope workouts and tutorials.
Nate, a fitness trainer and jump rope enthusiast, is one of our other favorite up-and-comers. On his channel he shares tips on jump rope footwork and conditioning. 
Chris Alberts (@chris.alberts.fitness)
Chris Alberts, a fitness trainer based out of Los Angles, is another great person to follow on IG. He's ACE certified and in amazing shape! His account is focused entirely on health, fitness, and jumping rope.
Myka Greeley, owner and founder of Skip Fit, is a jump rope coach based out of Australia. She's a former jump rope competitor and has since transitioned into teaching adult jump rope fitness classes. Her account has a variety of jump rope fitness content.