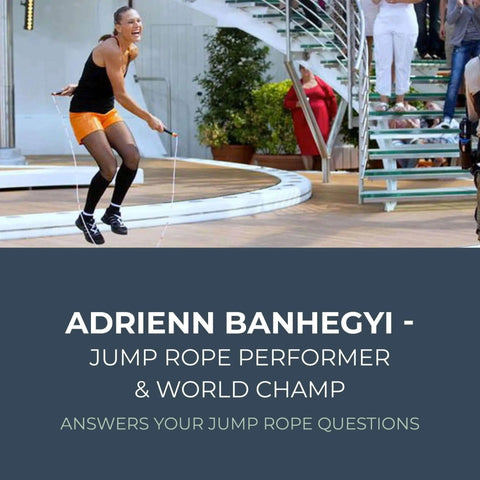 Adrienn Banhegyi's long list of accomplishments in the sport of jump rope (World and European Jump Rope Champion, world record holder, Cirque du Soleil performer) have led some to call her the "jump rope girl" and the "best jumper in the world".
At the very least, she's one of the greatest ambassadors for jump rope, having started jump rope fitness and schools programs, created jump rope fitness certifications and traveled all over the globe as a jump rope performing artist.
Learn more about Adrienn on her website.
We've admired Adrienn's contributions to the sport for some time. We recently had the chance to catch up with her on a variety of jump rope topics, including her path to becoming a professional jump roper, whether jump rope will ever make it into the Olympics, and more. See what she had to say below.
---
At what point in your career did you realize that you could make jump rope a profession?
I just really enjoy training - any sorts of sports. I also played handball professionally for several years. However at the end, jump rope proved to be a sport that I enjoyed practicing more. In general, I make decisions in my life in order to feel good and be happy, which does not really mean a big income, but I also believe that the more energy and work we put into the activities that makes us happy, somehow it will come back to us, in a positive way.
In general, I am very grateful that I had so many possibilities for jump rope, and I hope I could open many doors for the next generation of jump ropers.
Where have been some of your favorite places to travel and perform?
I enjoy visiting new places, and meeting different people on my journeys - lately I love performing in my home country, in Hungary.
Where is the weirdest place you ever had to perform?
Each place has its story, some more exciting than others, plenty of interesting cultures you can meet along the way.
Weird - hmm... probably one of the radio stations in Michigan, when working for Cirque du Soleil for promoting their show Quidam, the idea was to jump with a snake - which we did not really go for :) Not even mentioning that there was no place in the studio for a single jump either, and our interview wanted a short performance to present the sound of the rope to the listeners. It felt a bit interesting :)
What is your favorite trick?
Most of the release combinations. I like the training of having a release mastered.
Are you working on any new tricks?
New tricks - yes, I like to challenge myself from time to time, with new tricks, however I am also a bit careful lately to prevent injuries, so I go as far as I feel comfortable but challenged as well.
Do you think that jump rope can be part of the Olympics?
At the moment, I think we need another 10 years before we can make a step in this direction. I also believe that representing jump rope as sport we need credible people, and there are many of them in the jump rope community who devoted their young ages to this sport and will need to be given a chance for representing the sport in favour of the athletes, however, they also need to stay neutral. I think the sport has a great potential ... we need to polish the rules a bit, without favoring continents. I believe we need to teach our athletes both to win and to lose, not create rules so that we lose track of overall champions and everyone leaves competitions with gold medals - life will be more difficult than that! We need to make decisions for the sport itself and build a strong system what we can proudly present to medias, and stand our ground when compared to other, traditional sports.
What characteristics in a person's personality helps make a person develop into a great rope jumper?
I think as in every sport, determination, strong will-power are a must in jump roping as well. Creativity is a great addition to all the skills that you need to be a good performer. I also think everyone has something to give to his/her audience, and it is makes a performance very interesting and unique every time. I believe that developing your own style, where we see that you are most comfortable with your jump rope, and it is done with joy and ease, it is something that can take the audience on a fun journey!
What is your favorite teaching hint for teaching somebody double unders?
I firmly believe that a good double under needs a strong base of other basic skills. Before teaching double under to anyone, I like to check how the person senses the speed of the rope, how much he/she is in control of changing the speed of spinning the rope. Exercises that are focusing on changing rhythms, speed - are the most useful.
What is your impression about the jump rope community as a whole? What makes this community of athletes different from other athletes?
I have been a bit out of the jump rope community over the last couple years, due to a lot of performance requests. I used to do competitions at the time when we only had one federation, and I feel over the last years the two direction of World Jump Rope and FISAC is not fortunate for the sport, as it is not favouring the athletes, each was focusing at the people on the top of the federation but not that much of the athletes themselves. So I stay away a bit from the competitive part of the sport and I joined a school federation - WIRSO, that I feel more comfortable with. However, for the moment, I am happy to hear about the UNION and will be great to see what the future of competitions will be like!
What jump rope do you like to use that is the most visible for the audience to see?
I like my own jump ropes. I also have a jump rope shop - jumpplusworld.com - and I like to create the designs of my ropes, depending on the background, I choose the color of the handles, cables, beads, and I often add tape on the cable ropes to be more visible with stripes. For TV shows, I often used beaded ropes.
What type of jump rope do you recommend for freestyle routines?
I believe that it depends on the style of jumping, and the level of the skills you are performing. I like both the beaded jump ropes and the cable jump ropes.
Do you like the travel as much as you enjoy the jumping?
Traveling is a special education I would say. You learn so much about people, cultures, different situations that school will never teach you. So yes, I like it, almost as much as jumping. Depends on the type of travel, when have to drive 7-8 hours alone, many times a month, it gets a bit tiring, but when arriving to a great place, you forget the tiredness.