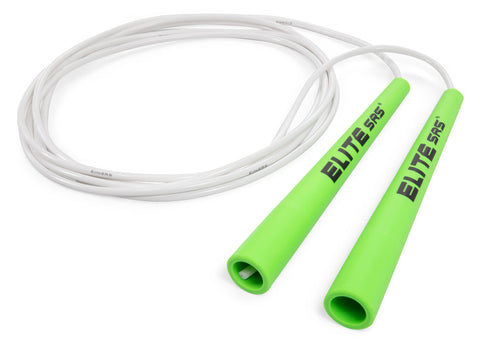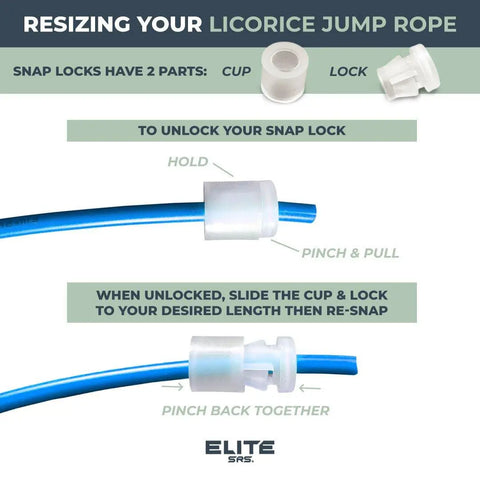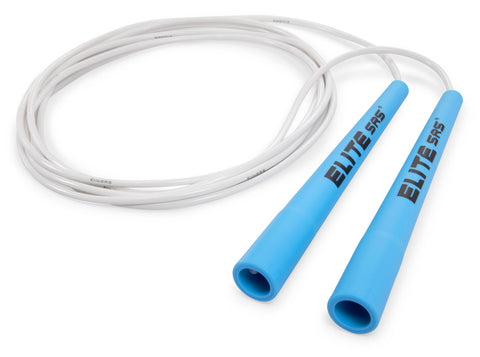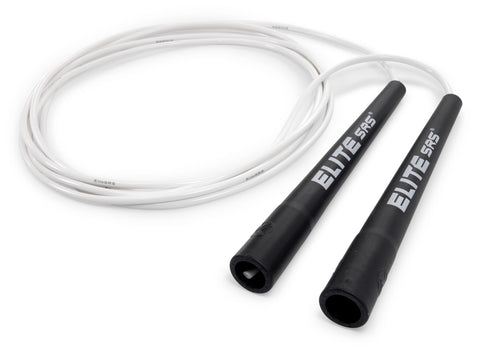 Edge Flex Rope - Clearance
NOTE: Elite SRS is now Elite Jumps. We rebranded recently. This product is on sale while we move the the remainder of our stock with Elit...
Show More
Free USA shipping $50 and over.
Product Features

NOTE: Elite SRS is now Elite Jumps. We rebranded recently. This product is on sale while we move the the remainder of our stock with Elite SRS branding.

Specialty freestyle rope for jumpers practicing power moves. The soft, flexible handles are forgiving when doing handstands and other similar movements.

Not recommended for every day fitness jumpers.

This jump rope makes freestyle power moves just a little easier -- the handles are soft and much more forgiving to land on. Power tricks with traditional hard-plastic freestyle handles can leave bruises on your hands. These won't.

Handles:  6.6" long / 0.7oz weight (each handle) / 0.8" diameter at the end. Indestructible, flexible handles - lighter, softer and smaller than traditional hard-plastic handles. Smooth turning handles are made from special polypropylene that will bend and flex but never shatter.
Cord: 10ft white PVC cord (4mm)
Sizing: Features snap/lock system for easy length adjustment. Simply slide the adjustable end to the desired length and trim off the excess cord with some scissors. Resize for your purposes. 

Shipping & Returns

We ship same day on orders before 11am PST. Orders after 11am ship next day. Want to return your product? We'll refund the cost of the product within our 90 day return window.

1-Year Warranty

Our products are guaranteed with a 1-year money-back warranty. Within the 1 year warranty we will refund, repair and/or replace parts or products that are defective in materials or workmanship. We pay the shipping.
Edge Flex Rope - Clearance
Quality jump rope
This is a quality jump rope, and I can recommend it to anybody. Now, a bit more details. I have both core (5") and fit (8") handles already, and I was wondering if the edge (6.5") makes any difference. I don't perform any crazy free style routine; just regular cardio, so softness did not really matter. Honestly, if you have both core and fit handles, you don't need this one, but if this is the first one, you may like it. The other thing is that both core and fit can accept 4mm, 5mm, and 6mm ropes, but edge cannot take 6mm. 6mm is my go-to, so this is a bummer. In any case, this is another quality jump rope, but for my purposes, I prefer other handles.
Underwhelming
The rope was too light to be effective.
Edge Flex Rope
I've skipping for a15 month and bought your rope few month after i started. I wish I knew what rope was right for me right from the start...had injured my hand many times. Love your ropes!!! bought some more for everyone in the family.
Buena cuerda freestyle
Es cómoda, pero quizá un poco ligera para controlar bien.