Sports Performance Jump Rope - 3 Cord Progression Bundle
"I've been struggling with double unders FOREVER -- but the heft of these handles is making them easier. Plus they're just h...
Show More
Free USA shipping $50 and over.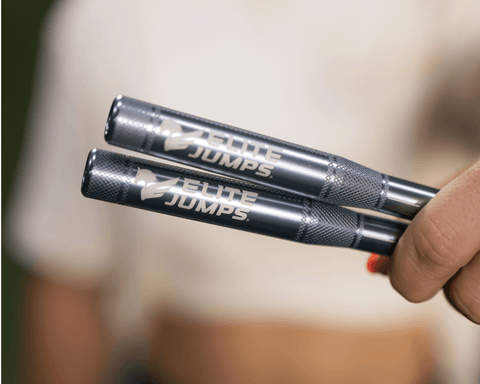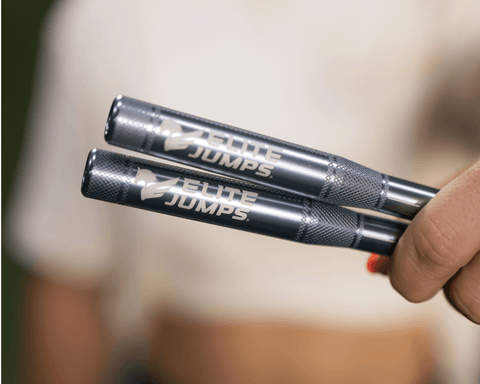 Textured Handles for Superior Grip
The Performance Rope boasts textured handles that guarantee a superior, non-slip grip, giving you confidence and stability during your most dynamic and sweaty workouts.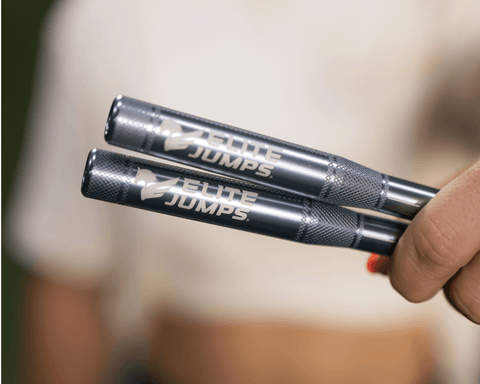 Product Features

The Sports Performance Rope is designed to improve your jump rope experience and turbocharge your workouts!

Longer Handle for Leverage: The Performance Rope comes with 6.5" long tapered handles that provide you with greater control and leverage during those intense sessions, making your exercises more effective and efficient.

Lightweight Metal Construction: Designed for durability without compromise on weight (2 oz.), the lightweight metal ensures longevity while allowing you to maintain speed and agility with ease.

Quality Bearings for Smooth Spin: Say goodbye to friction! Our high-quality bearings offer an unbelievably smooth handle spin, providing you with a seamless and fluid jumping rhythm, regardless of the intensity of your workout.

Ergonomically Designed Handle: Crafted with your comfort in mind, the ergonomic handles significantly reduce hand fatigue, allowing for longer, more comfortable workout sessions that won't take a toll on your hands.

Cable Options: This set includes 3 cords: An ultra durable 4mm "fitness" PVC cord that can be used indoors or outdoors on rough surfaces , a 3.2mm white PVC coated "freestyle" cable for freestyle tricks, and a 2.4mm black nylon coated "speed" cable for double unders and speed work. 

Textured Handles for Superior Grip: The Performance Rope boasts textured handles that guarantee a superior, non-slip grip, giving you confidence and stability during your most dynamic and sweaty workouts.

Note: We've included all the screws and cord ends you'll need to easily swap out and replace your cords with the handles.

WHAT'S INCLUDED WITH PRODUCT

- Handles: 6.5" long / 2oz (each) / 0.7" diameter. Made of high grade aluminum. Very durable.
- Includes 10ft 4mm red PVC, 1 3.2mm white freestyle cable, and 1 2.4mm black nylon coated cable.
- Elite Jumps Velvet Bag

Shipping & Returns

We ship same day on orders before 11am PST. Orders after 11am ship next day. Want to return your product? We'll refund the cost of the product within our 90 day return window.

1-Year Warranty

Our products are guaranteed with a 1-year money-back warranty. Within the 1 year warranty we will refund, repair and/or replace parts or products that are defective in materials or workmanship. We pay the shipping.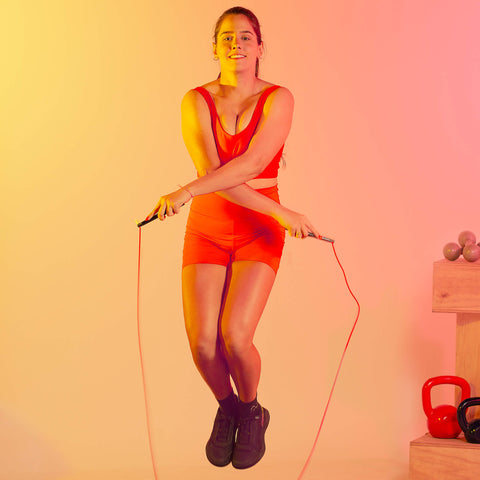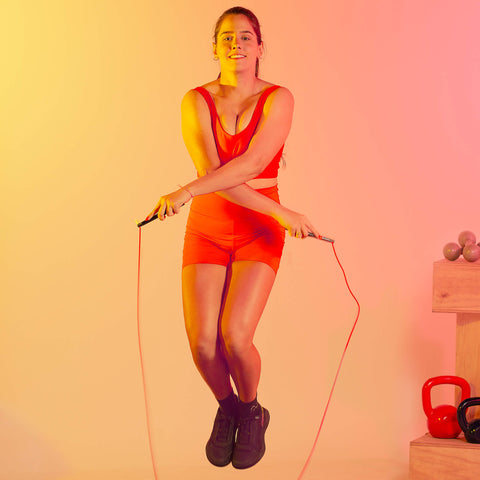 Why Settle for Less When You Can Have the Best?
Every feature of the Performance Rope is designed with your ultimate workout experience in mind. Whether you are a beginner or an advanced jump roper, this rope is your companion for a transformative and powerful exercise routine.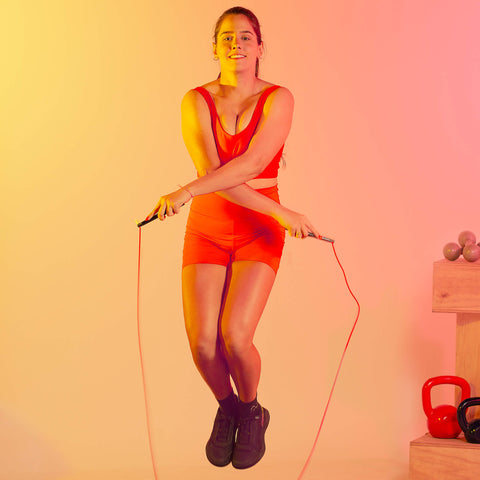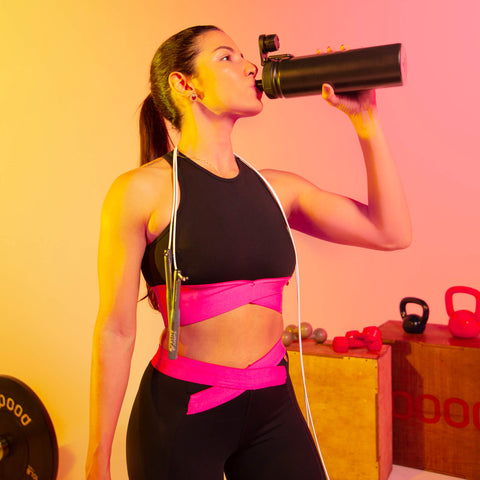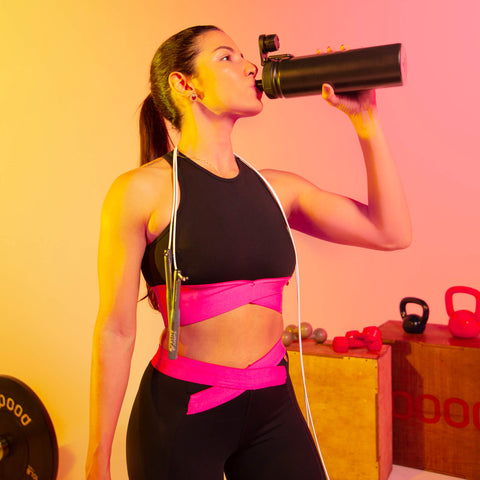 🎯 Designed for Your High-Performance Goals!
This rope isn't just for the everyday fitness enthusiast - it's designed for athletes, individuals in fight sport training, those participating in competitive fitness, or anyone looking to enhance their fitness in the garage or at the gym. Whether you are engaged in high-intensity training or just starting your fitness journey, the Performance Rope is your go-to for a versatile and effective workout companion!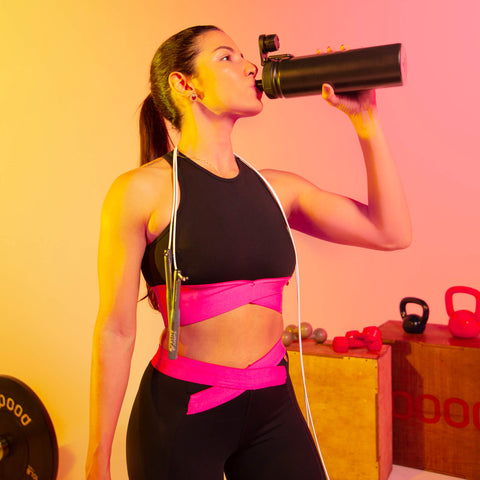 OUT OF THIS WORLD bearings
This rope is for TRICKS, like double-unders, even triple-unders. As a beginner I am not yet very proficient with it. If you are a beginner, or just want to activate your body for cardio, I'd recommend you check out one of this company's heavier 6mm ropes. I have one of them too and they provide you way more feedback when you learn to jump, as well as engage your arms more.
But, I'm guessing what you are really reading the reviews for, is: "Yes, I want to do tricks—I want a speed rope—is this a good speed rope?" The answer is yes. Watch the video. If only my relationships went as smoothly as this rope. And, the ropes are all soft, pliable, kink-resistant, just a total pleasure—if you want to do or learn TRICKS.
I'm new to jumping rope but this set seems really nice to me!
Even though rope jumping is a new sport for me, I have a few different sets to compare. I like this set for a few reasons. It includes different mm size ropes which, to my understanding, affects the speed at which the ropes go. They attach to the handles through the bottom at a 90 degree angle rather than through the entire handle, like many other jump roped. The segment of the handle that accepts the rope spins freely and quickly so that as you jump, there is less hand fatigue and the rope doesn't tangle. It's a very fast jump rope. There are different styles of rope locks; plastic and metal. Plastic for the thickest rope (I believe the red one) and metal for the others. They lock the ropes in place on the handles. Just make sure you tighten them enough so they don't come flying off during your workout.
I'm learning to love jumping rope again-haven't done it since I was a kid. This is a really good rope kit. Don't forget to take care of yourself-warm up before you jump. Make sure you stretch and decompress afterwards, too. Avoid shin splints so you can keep jumping!
I've been looking for a jump rope for the gym and this one works great!
I have been borrowing a jump rope for my workouts and the gym, so I decided to take the plunge on this one. It took me a while to get it "set up", eg., make sure the rope was the right length and secured in the handles, but once I did it works great. The handles are comfortable and now I don't have to borrow a rope anymore!
Nice set of jump ropes
Nice set of jump ropes. Aluminum handles and comes with 3 sets of cords. Fairly smooth rope rotation. Hopefully it lasts.
High quality jump rope!
This jump rope is made of good quality components. The handles are made of aluminum and have ball-bearing swivels for the rope. It comes with three ropes. A thick, a medium, and a thin. I can expect that this set will last a lifetime.