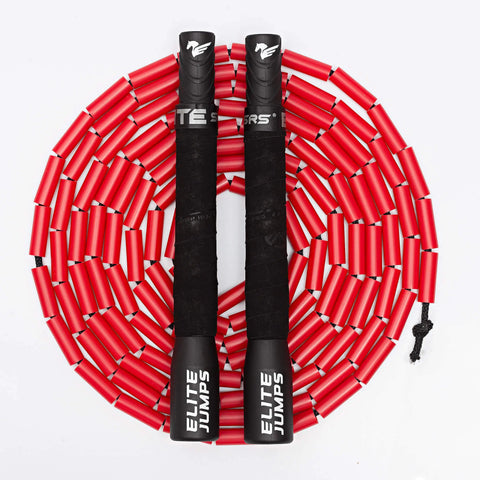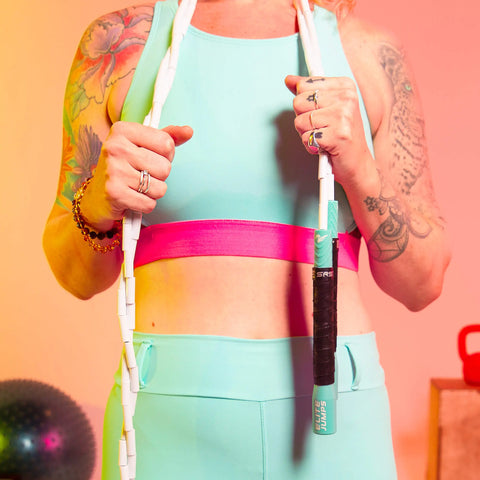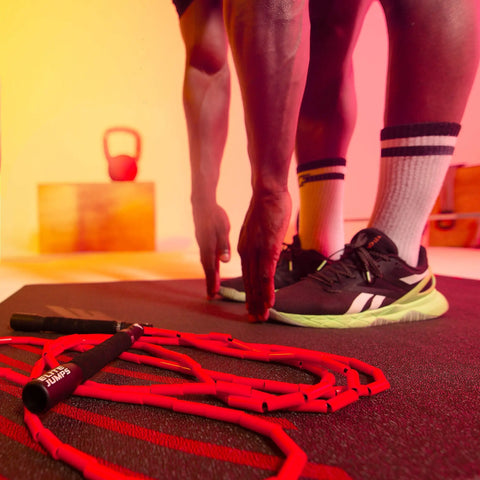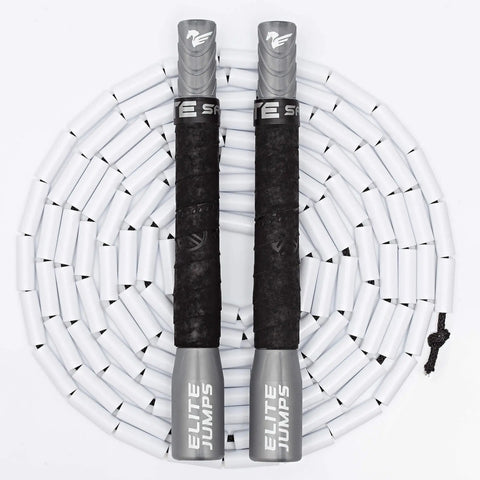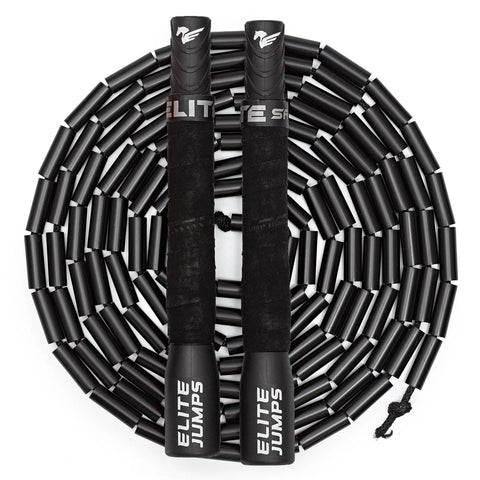 Freestyle Beaded Jump Rope - Long Handles
"I own several ropes, this one immediately went to my favorite. You can feel this rope, very few errors and easy to learn tricks. Na...
Show More
Free USA shipping $50 and over.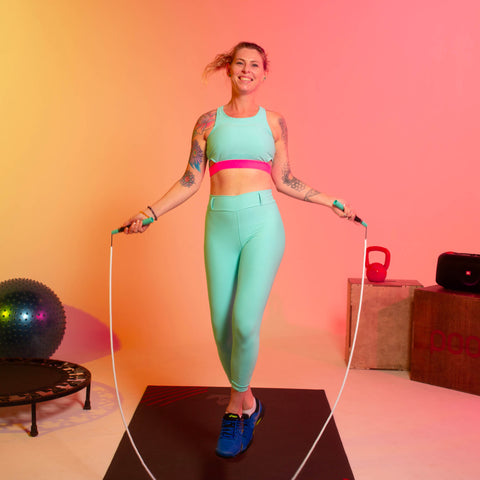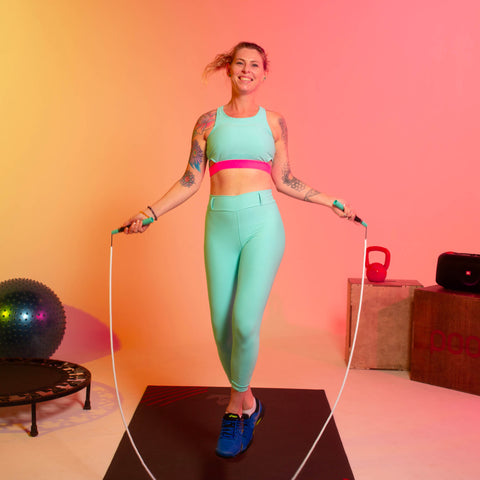 🎯 You love jump rope? You'll love the freestyle beaded.
The Freestyle Beaded Rope is versatile. Whether you're a seasoned pro or a novice, this 1" beaded jump rope is the staple for anyone who loves jump rope.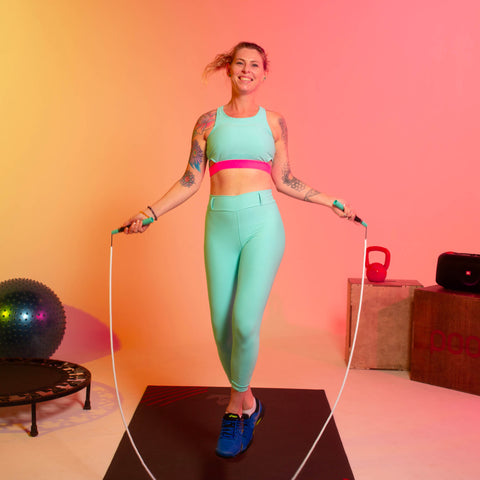 Product Features

Introducing the Freestyle Beaded Rope: For the Love of Jump Rope!
This is the recommended jump rope for jump rope enthusiasts: Those who look forward to jumping at the gym or practicing new tricks in the driveway.

Long 8" handles make freestyle movements like crosses easier.

1" beads give it just the right weight and click-click sounds for developing a rhythm for long sets.

Light weight, unbreakable beads and handles can be used and abused without worry.

Quality & Durability You Can Trust: Crafted with thick-walled beads, this rope guarantees durability even on hard surfaces and outdoor environments. Combined with our special unbreakable plastic handles, it's built to last, with a 1-year guarantee on all our products.

Ideal for All Skill Levels: Whether you're a beginner or a pro, the Freestyle Beaded Rope is your ideal companion. 

Easy Adjustable Sizing: At a convenient 10ft length, adjusting the rope to fit any athlete is simple and quick. To modify the length, just unthread from the handle end and remove the necessary beads.


WHAT'S INCLUDED WITH PRODUCT

- HANDLE CONSTRUCTION: Comes with an unbreakable plastic polymer 8"" handles and low profile grip tape / 1oz weight (each handle) / .9"" diameter at end
- BEADS: Made with 1"" shatterproof beads backed by a 1-year warranty.
- CORD: 1/8"" Black Polyester Rope
- Elite Jumps Velvet Bag

Shipping & Returns

We ship same day on orders before 11am PST. Orders after 11am ship next day. Want to return your product? We'll refund the cost of the product within our 90 day return window.

1-Year Warranty

Our products are guaranteed with a 1-year money-back warranty. Within the 1 year warranty we will refund, repair and/or replace parts or products that are defective in materials or workmanship. We pay the shipping.
Get a Grip!
Long 8" unbreakable plastic polymer handles with a soft foam tape (the same as on tennis rackets) for a comfortable, slip free grip.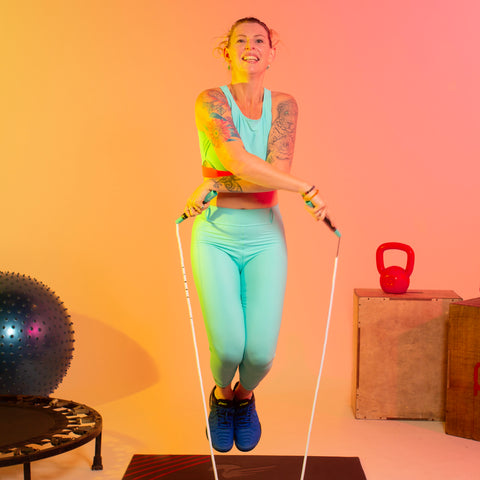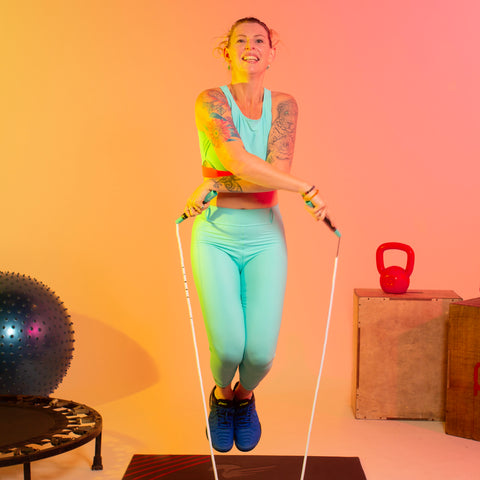 Made to Last
Unbreakable plastic polymer 8" handles and shatterproof beads backed by a 1-year warranty.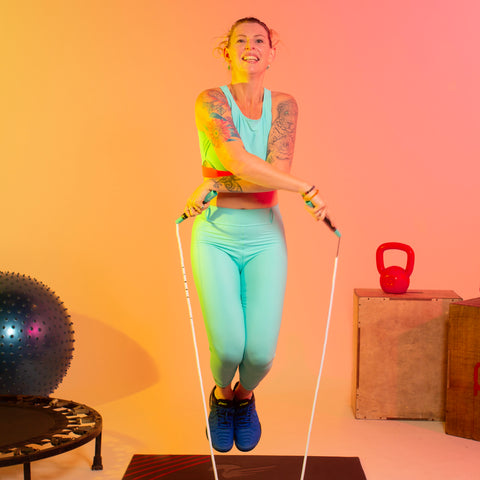 Good beaded jump rope
I have been jump roping for a long time, and I got the Elite Jumps Freestyle Beaded Jump Rope because it was recommended that beaded jump ropes are best for release moves. The handles have a comfortable grip, the beads look very sturdy, and they are threaded through a nylon cord.
I have not had the courage to try the release moves yet, but for normal jump roping, this beaded jump rope works fine. It gives noticeable feedback for beginners. It isn't ideal for really fast jumping or double unders IMHO, but a skilled jump roper can work with any kind of rope.
What I did not care for is how one adjusts the rope length, which is simply by trimming the cord to the desired length, removing the extra beads, and then tying off the cord with a knot. Because the handles are long, there is always some unbeaded rope, and it's more bare rope than what I would have preferred.
Large handles easily adjustable
This light weight jump rope is made extremely well. The handles are beautiful and fit any hand size. The amount of rope given is also enough for any height or frame. It is easily adjustable which only took me 2 minutes to adjust to my height. Now after using it for a while, it's easy to move around and maneuver. Every part of it seems expertly made and I'm hoping to use this for years to come.
great for crossover workouts
Outstanding beaded jump rope, perfect for kids and beginners These beaded ropes are great for learning tricks like crossovers, EB's etc. I love the tactile click the beaded rope makes with each skip. Makes it easier to maintain a rhythm with music blasting through my headphones. Long lasting and a great practice working up to pvc ropes
Great jump rope
This jump rope is well made, easy to adjust and durable. It's light weight which is very nice for both usage and carrying it around. Came with a little bag for it too.
A winner
The rope is weighted enough for response while jumping but still light for entire 1 hour jump session. I have the cross rope and here rope brands- which are excellent. But The beads on the elite are tough and can be used on most flooring. The cross rope and here rope brands I use with a matt when not on carpeted surfaces. The long handles is what makes this brand a winner.