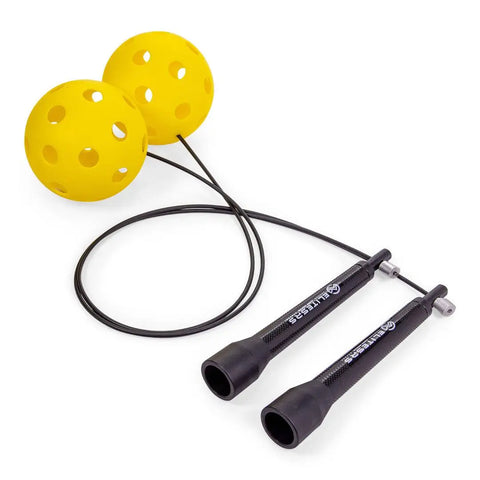 Cordless Jump Rope
Free USA shipping $50 and over.
Product Features

A cordless jump rope system used to increase coordination, skipping speed and arm endurance. A cordless jump rope is perfect for practicing.

Useful for:

Practicing double under & speed jumping rhythm and coordination
Improving arm endurance for competitive jumpers (m

ost coaches know that it isn't the legs that wear out; it's the arms).

Improving coordination between arms. Many jumpers have a difficult time using both hands equally, which causes the rope to turn too close to their feet. The result is misses! Speed training with this system helps increase coordination and strength in the "weaker" hand. The result ... less misses and faster scores.

For "no jumping" workouts:  The Jump Rope Trainer is also a great tool for those who are unable to jump well. The balls will turn with little or no jumping. Use for a fun workout.

Shipping & Returns

We ship same day on orders before 11am PST. Orders after 11am ship next day. Want to return your product? We'll refund the cost of the product within our 90 day return window.

1-Year Warranty

Our products are guaranteed with a 1-year money-back warranty. Within the 1 year warranty we will refund, repair and/or replace parts or products that are defective in materials or workmanship. We pay the shipping.
Fast shipping
Nice contact
Fast help
Best Cordless Rope!
I tried a few others off Amazon and they all felt weird when using. I almost gave up on cordless till I saw someone else using these in a group page. THEY ACTUALLY GIVE FEEDBACK! That's what I was missing on the others. The holes in the balls allow the air to catch enough that there's some resistance and that makes them feel more like the real thing. Highly recommend!
Works as advertised.
Simple, sturdy product. Great way to train and see swing imbalances.
Works as advertised
Simple, sturdy product. Great way to train and see swing imbalances.